Strawberry Hill Residents' Association AGM
At the AGM the chairman was pleased to report two successful campaigns by the Association.
The planning application for the installation of a 5g phone mast alongside Radnor Gardens has been refused following objections from local residents supported by SHRA.
We are also pleased to report that the volume of the barrier siren at the Strawberry Hill level crossing has been reduced. Network Rail responded to the request by SHRA chairman David Cornwell who highlighted the many complaints from people living close to the crossing.
Strawberry Hill 
Residents' Association
Strawberry Hill is a community in West London on the north bank of the River Thames in the old county of Middlesex.  In 1747, Horace Walpole moved to this area, acquiring a house which he developed into his "little gothic Castle".  He named it Strawberry Hill and the immediate area is named after his creation. A good starting point for exploring the rich history of this small area is our History page.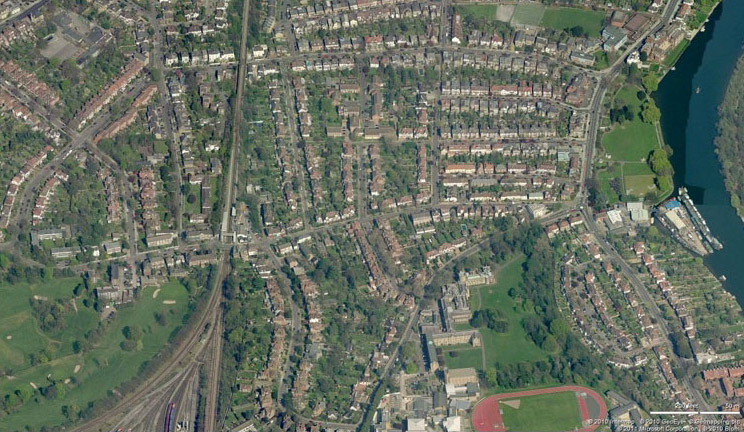 An aerial view of part of Strawberry Hill, showing the station (left), Walpole's Strawberry Hill House (centre right) with St Mary's University in the foreground and Radnor Gardens on the River Thames (top right)